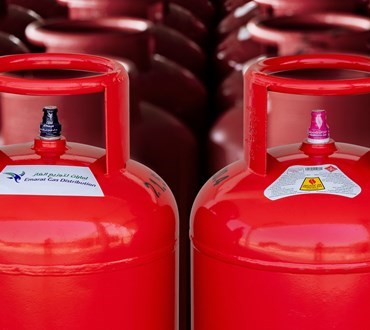 Emirates Gas, a wholly owned subsidiary of ENOC Group, announced the introduction of new LPG cylinder seals in partnership with Emarat.  LPG cylinders supplied in the emirate of Dubai will now have a new shrink-wrapped identification seal on their valves in unique colours which are pink for Emirates Gas and violet  for Emarat.
The PVC seal is designed with various components, including colour, material, hologram placement, a unique serial number, and tamper-proof features.
The updated seal features Emirates Gas in the pink seals and Emarat holograms in the violet  ones, each with a unique serial number, positioned horizontally on the shrink seal, to prevent the unauthorized distribution of LPG cylinders. Additionally, the seal is equipped with a hologram cap that cannot be duplicated or reused once it has been unpacked. Emirates Gas and Emarat urge their customers to closely check the new seals and make sure they are original.
H.E Saif Humaid Al Falasi, Group CEO of ENOC said: "We place consumers' safety and wellbeing in the heart of our business, and we continuously take measures to enhance safety and security standards. Through the launch of the new LPG cylinder seals, we aim to curb any potential risks and hazards as well as showcase our leading products with the highest safety standards in the LPG industry."
H.E Ali Khalifa Al Shamsi, Director General of Emarat said: "We are committed to upholding the highest safety and security standards and to providing partners with safe and reliable solutions. As we continue positioning ourselves as a benchmark for quality and services within the LPG market, the launch of the new LPG cylinder seals will provide consumers with access to premium-quality products."
As part of the ongoing efforts to combat the circulation of unauthorised LPG cylinders, Emirates Gas and Emarat urges customers to buy from authorised distributors only and to request a valid VAT invoice as per the UAE government regulations.
LPG cylinders contain flammable, hazardous material and they require thorough inspection, specialized testing and maintenance before every filling as part of standard safe practice by authorized LPG bottling plants to ensure safety of customers.
To view a list of authorised distributors please visit: click here